Chinese New Year Horoscope - 2018 Brown Earth Dog Predictions

2016 Chinese Zodiacs - Year of Red Monkey
2015 Chinese Horoscope Year of Sheep
2015 Chinese Zodiac Year of Sheep
2015 Chinese New Year of Sheep
2015 Feng Shui Guide for Your House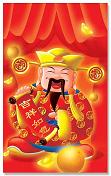 2013 is the Year of Water Snake




and it will arrive on February 4, 2013 according to Chinese astrology calendar. Chinese New Year Day is on February 10, 2013, which is from the Chinese Lunar Calendar. Chinese like to read their horoscopes for the coming year during Chinese New Year festival days. Here, we provide Chinese Five Element Astrology and 12 Chinese Zodiac Animal Signs predictions for people interested in Chinese horoscopes. Chinese Five Element Astrology is more accurate, but a little bit complicate. The 12 Chinese Zodiac method is simpler, but less information about your money, career and reputation.
Five Elements are Metal, Water, Wood, Fire and Earth. Chinese Astrology uses a Balance Theory of Five Elements to predict the fortune of people's entire life. Therefore, before doing the prediction, you have to know your Chinese Astrology Birth Chart, then you will know what kind of elements are in your birth chart. The Chinese Astrology Birth Chart is built by your birthday and birth time. You can find your astrology birth chart from Find Your Lucky Element page, which will tell you which element is favorable to your fortune.
2013 is a Water Snake Year. Snake of 2013 is in the Fire group and contains mainly Fire. If you Lucky Element is Fire or Water, then the Year of Snake will bring you some degree of luck. Water of 2013 and Fire of Snake are opposite elements. Therefore most of people will experience mix of good and bad fortune.
2013 Chinese Five Element Astrology
The detail explanation of 2013 Chinese Five Element Astrology is at 2013 Chinese Horoscope of Black Water Snake Year Prediction page.
If that explanation is too lengthy or complicate to you, then we have an easy page for you to find your own 2013 Chinese Five Element Astrology at

Predict your Personal 2013 Chinese Horoscopes
2013 Chinese 12 Zodiac Prediction
Chinese Zodiac use 12 animal signs to predict people's fortune. The twelve animals are Rat, Cow, Tiger, Rabbit, Dragon, Snake, Horse, Sheep, Monkey, Chicken, Dog and Pig. The 12 Chinese zodiac signs are determined by people's Birth Year. Most of Internet Chinese horoscope sites use Chinese New Year Day to determine the Chinese zodiac sign, which is wrong.
The first day of the Chinese astrological year is the first day of the Tiger Month (Start of Spring). The Tiger Month begins around February 4, each year. If you were born before February 4, then you should check Your Chinese Zodiac Sign first before reading your 2013 Chinese zodiac. The simplest way to prove Chinese zodiac signs not determined by Chinese New Year days is to see your Chinese Astrology Birth Chart using your birthday and birth time.
The following are the Chinese zodiac predictions by Birth Year animal sign.

Chinese Zodiac All Animal Signs
Chinese Zodiac Rat Years born in 1012, 1924, 1936, 1948, 1960, 1972, 1984, 1996, 2008
Chinese Zodiac Cow Years born in 1913, 1925, 1937, 1949, 1961, 1973, 1985, 1997, 2009
Chinese Zodiac Tiger Years born in 1914, 1926, 1938, 1950, 1962, 1974, 1986, 1998, 2010
Chinese Zodiac Rabbit Years born in 1915, 1927, 1939, 1951, 1963, 1975, 1987, 1999, 2011
Chinese Zodiac Dragon Years born in 1916, 1928, 1940, 1952, 1964, 1976, 1988, 2000, 2012
Chinese Zodiac Snake Years born in 1917, 1929, 1941, 1953, 1965, 1977, 1989, 2001, 2013
Chinese Zodiac Horse Years born in 1918, 1930, 1942, 1954, 1966, 1978, 1990, 2002, 2014
Chinese Zodiac Sheep Years born in 1919, 1931, 1943, 1955, 1967, 1979, 1991, 2003, 2015
Chinese Zodiac Monkey Years born in 1920, 1932, 1944, 1956, 1968, 1980, 1992, 2004, 2016
Chinese Zodiac Chicken Years born in 1921, 1933, 1945, 1957, 1969, 1981, 1993, 2005, 2017
Chinese Zodiac Dog Years born in 1922, 1934, 1946, 1958, 1970, 1982, 1994, 2006, 2018
Chinese Zodiac Pig Years born in 1923, 1935, 1947, 1959, 1971, 1983, 1995, 2007, 2019
2013 Feng Shui Houses
If you are looking for a new home in 2013, then you want to know
which house can increase your wealth.

which house can improve your love relationship

which house is good for your health

which house is good for your school children
How to find a Rich House, Romantic House or Intelligent House
Gift from Master Tsai Chinese Astrology
If you want to foresee the outline of your entire life, then we have a gift for you at
If you are interested in Chinese Daily Astrology, we you should bookmark
---
Yearly Chinese Astrology Major Cycles Astrology


Chinese Fortune Angel
tells your lucky elements and lucky animals

Home of Chinese Fortune Calendar