Order and Download Chinese Fortune Angel Software
---
PayPal - Credit Card Payment
You can send your payment directly over the Internet using your credit card through the PayPal system, which is very secure. There are over 15 million websites worldwide using PayPal today.
The Chinese Fortune Angel download file is more than 9,000,000 bytes. You need a high speed Cable or DSL line Internet connection to download. The file is a ZIP file. You need to unzip to install the Chinese Fortune Angel. You need to send your mailing address to mastertsai@yahoo.com. Then, we will notify you the location to download the software. No Angel software CD will deliver to you.
If you don't have a PayPal account, then you must first Sign Up a Free personal account. Setting up your account is free and takes only a few minutes. After opening a PayPal account, then come back to select the item to complete the order.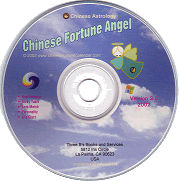 Chinese Fortune Angel

Home Page