2017 Chinese Horoscopes for Year of Chicken


Donald Trump Born in Year of the Dog
2020 Donald Trump Chinese Astrology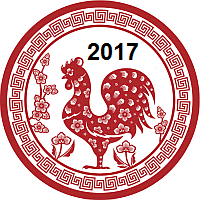 2017 Chinese New Year is arriving on January 28, 2017. That is the 4714th Chinese year. The zodiac sign of 2017 is Chicken or Rooster. According to the Chinese Horoscope calendar, 2017 is the Female Fire Chicken year. Red is connected to the fire. Therefore, 2017 is also called the year of the Red Chicken


or Red Fire Chicken.
According to the Chinese Horoscope theory, Chicken is a Female Metal. Female Metal is related to gold, precious gem or jewelry. That means Chicken implies luxury, beauty, and wealth. Red Fire of 2017 is related to the light bulb. When the light comes on the top of jewelry, Chicken can show more value from its outlook. That implies we will deal with financial events in the year of the Chicken.
Chicken is the 10th animal in 12 zodiac signs. Chicken is connected to the season of autumn. It's the fall harvest time. Therefore, Chicken is also connected to the fruit. People should have relaxing or joyful time while enjoying the fruit. That means we can have a good time after diligence in the cycle of Chicken.
Male Metal is connected to air, wind or strong current. Female Metal is connected to fog or slow dirty air. We cannot see our future clearly until the fog disappears. That means Chicken blurs our vision and mystifies our decision. We need to wait for the sun appears or fog disappears. We will use these concepts to analyze the Chicken relationships with 12 Chinese zodiac signs.
Most of Internet Chinese horoscope sites use Chinese New Year's day to determine the Chinese zodiac sign, which is wrong. Chinese New Year is from Chinese Lunar Calendar. To build a Chinese Horoscope Birth Chart needs to use Chinese lunar, solar and stem-branch calendars together. Your zodiac sign is the animal symbol in the YEAR column of the astrology birth chart. The first day of the Chinese astrological year is the first day of the Tiger Month. The first day of Fire Chicken year is on February 3, 2017. The Tiger Month begins around February 4, each year. If you were born before February 4, then you should use the animal sign of the previous year to read your 2017 Chinese zodiac forecast. But the best way is to enter your birthday to get the complete 2017 Red Chicken Year Prediction with your birth chart.