Chinese Five-Element Life Balance Chart and Saddam Hussein
Saddam Hussein was born on April 28, 1937. He was the Iraq president from 1979 to 2006. The birth time is unknown. The following Chart assumes the birth time was 11:00 a.m. We have another Saddam Hussein's Chinese astrology chart using 18:00 p.m.
The Five-Element Balance Chart of Saddam Hussein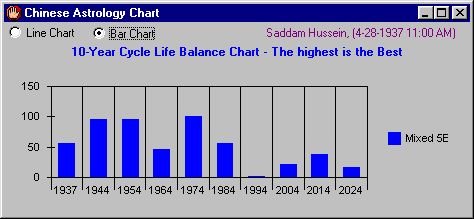 The Life Balance Chart shows Saddam Hussein's lowest cycle is in the 1994-2003 cycle.
Saddam Hussein was in jail from 1964 to 1966. He survived during Gulf War I in 1991.
2003 is the last opportunity for President Bush to overthrow Saddam Hussein's regime.
If Saddam Hussein saw this chart, he might have different plan for his future in 2003.



Chinese Fortune Angel says Saddam Hussein's lucky elements are Water and Wood.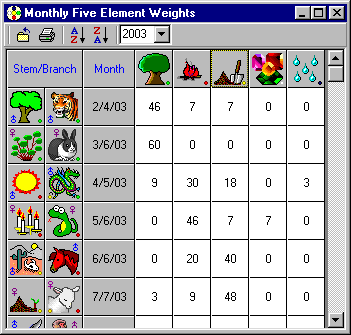 Fortune Angel Chart shows Saddam's losing Wood and Water lucky elements from April 2003.
Can he survive in 2003?....
---
George Bush vs. Saddam Hussein
Home of Celebrity Chinese Astrology
Chinese Five-Element Astrology Software
Fortune Angel Chinese Astrology Software
Fortune Angel Chinese Astrology software contains the professional 10-God Chinese astrology birth chart, 10-Year Major Cycles, Cycles of Love, Dating Tool, Years to Watch, Love Matches for all persons in the database, Daily Chinese astrology, Peeking any Year and any Day. It's a good tool for learning Chinese Astrology. More Career, Money, Fame, Marriage predictions in the Fortune Angel Chinese Astrology Software...
Copyright © 1999-2021 Chinese Fortune Calendar All Right Reserved.