Five-Element Life Balance Chart of John Lennon
John Lennon was was an English singer, songwriter, musician, and the member of The Beatles. He was born on October 9, 1940 at 18:30 p.m. John Lennon was assassinated on August 8, 1980.
The following Chinese astrological charts are provided by the Fortune Angel Chinese Astrology Software software. You can see your own Rise and Fall Life Chart in chinesefortunecalendar.com for free.

The Yearly Life Balance Chart shows Lennon was low in 1980 comparing with the year he was born in 1940. If Lennon wasn't assassinated, Lennon should do pretty well in 2002. The bar chart after 1980 stands for the luck of his next generation.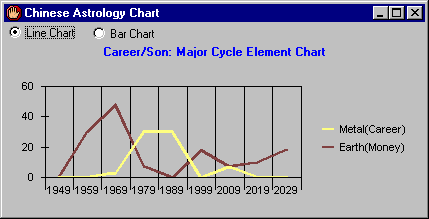 The Opportunity Chart shows Lennon's career and money opportunities. The Beatles really brought Lennon wealth.
John Lennon's Birth Chart tells people that wealth is not equal to happiness.
Chinese Five-Element Astrology Software
Fortune Angel Chinese Astrology Software
Fortune Angel Chinese Astrology software contains the professional 10-God Chinese astrology birth chart, 10-Year Major Cycles, Cycles of Love, Dating Tool, Years to Watch, Love Matches for all persons in the database, Daily Chinese astrology, Peeking any Year and any Day. It's a good tool for learning Chinese Astrology. More Career, Money, Fame, Marriage predictions in the Fortune Angel Chinese Astrology Software...
Copyright © 1999-2021 Chinese Fortune Calendar All Right Reserved.