What Does the Tiger Chinese Zodiac Mean in 2019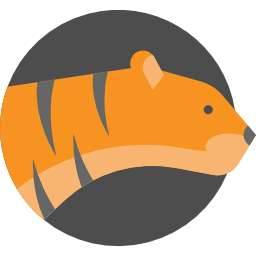 If your birthday is before February 4, then your astrological sign is Cow, not Tiger. (Verify Your Sign)
Tiger is bold, resolute, unyielding, dictatorial, arbitrary, ambitious and full of self-confidence. Tiger has domineering temper and authoritative air. It is often alone, not gregarious and difficult to get along with others.

Pig is the cold water in the winter. Pig is connected to river, running water, lake or ocean. It implies wisdom, initiative, energy, offensive and encroachment. Pig doesn't like to change the daily routine. It doesn't care the quality of the surrounding environment and lifestyle.

In Chinese astrology, Tiger is in the Wood (tree) group. Tiger contains Male Wood, which is the tall tree in the spring. Tiger month is February, the beginning month of spring season. The weather is still little cold. Wood of Tiger waits for the warm weather to grow up.

In Chinese astrology, both of Tiger and Pig contain Male Wood. They have the attractive relationship because of the common interests about Wood. Although Tiger is a carnivore, Pig and Tiger can get along well. They can be good business partners.
2019 Chinese Zodiac Tiger in Pig Year Prediction
Chinese Zodiac Tiger vs. 2019 Year of Pig


2019 is the Year of Brown Pig. You were born in the Year of Tiger. The following is the Brown Pig year prediction for people born in year of Tiger.
When Tiger meets Pig, Pig helps Tiger cordially all the way. But information provided by Pig won't help Tiger.
Career: Tiger is in the Wood group. Metal can cut, chop and conquer Wood. Metal brings pressures on Wood. Metal represents your career. Pig contains Water and Wood, without Metal. That means you probably won't see your big career achievement in the near future.

The Water of Pig stands for the wisdom. Pig thinks it's a wise guy and willing to help Tiger. Actually, Pig cannot help anything. Tiger can handle its own business.

Tiger contains Male Fire and Male Earth. Pig contains Male Water and Male Wood. Fire of Tiger fears Water of Pig. Earth of Tiger fears Wood of Pig. Tiger will feel pressures under Pig's help.

Pig and Tiger attract each other and they might have a bonding relationship. Tiger has to spend time to entertain Pig when pig's visiting. Pig's excessive care might become the entanglement to Tiger. Tiger cannot focus on the career business.
Job Change: Metal represents your career. Pig doesn't contain Metal. Your luck in career is not promising at this moment. If someone offers you a job, then you can consider skipping it. If you think Pig is a burden at work and you want to keep away from Pig, then you can accept the new offering. However, it will take time to build your reputation at the new working environment.
Wealth: Tree can grow on the ground. Wood can conquer Earth. Tiger is in the Wood group. Earth is Wood's money. Earth is connected to your money. Pig contains Water and Wood without Earth. That means Pig doesn't bring a sign of wealth toward you.

Tiger contains Wood, Fire and Earth. Tiger has money in its pocket. Pig also contains Wood. Therefore, Wood of Pig is also interested in your money. If Tiger invests money or business with Pig, then your investment will be gone. Pig is related to the river or ocean. Your money will be like a stone sinking into the ocean. Therefore, any investment needs to be careful and diligent in the cycle of Pig.
Love: Tiger is in the Wood group. If you are female, then Metal represents your boyfriend or husband. If you are male, then Earth stands for your girlfriend or wife. Pig contains Water and Wood, without Earth and Metal. If you are single, then you will need more time to find your true love.

Pig and Tiger have common interests of Wood relationship. Your people relationship is good. Your social activities will increase. But it's hard to have a close love relationship. If you are single, then you can hang out with people born in year of Horse. In this way, you have more chances to find your ideal companion. May and June are the good months.

If you are in love, you need to prioritize your love relationship first. You should spend more romantic time with your lover to deepen the relationship. If you are married, then you shouldn't spend too much time for the social events. You should reserve enough time for the spouse. You express your respect and appreciation or go on a romantic trip.
Social Circle: Since the attractive relationship between Pig and Tiger, your people relationship is excellent. You will have good opportunity to meet new friends. It's easier to find people with similar interests during the day. Therefore, you should attend more outdoor social activities under the sunshine. That will bring you positive energy and buid healthy and longer friendship.
Quarrel: Tiger doesn't get along with people. But Tiger becomes good-tempered when Pig is around.

In case that you have an argument, dispute, or lawsuit with someone, then you'd better to make peace with the person. This dispute will hold you for a long time. The result might be a money loss.
Health: Tiger is in the Wood group. It's Male Wood, which is tall tree. Pig contains Water and Wood. Water of Pig makes Tiger healthy and strong. Tiger also contains Earth. Earth helps tall tree group taller. Therefore, your health is pretty good during the period of Pig. It's unfavorable to Earth, when Water and Wood are strong. If Earth is too weak, then you should watch out for the gastrointestinal and digestive system. Sunshine gives Earth energy. Outdoor activities are good for you. Walking, hiking, jogging, cycling, sunbathing, gardening and picnic are good outdoor events.
General Fortune: Pig brings you lots of caring and love. Pig's presence delays your work schedule. Enjoying sunshine can bring you positive energy and good fortune.


2019 Chinese Horoscopes for all 12 animals
Continue below...
2019 Chinese Horoscope Prediction by Birthday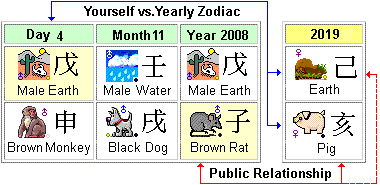 Above 2019 Chinese Zodiac Prediction gives you limited information. Your Chinese Zodiac Sign is from the Birth Year of your Horoscope Birth Chart. Your zodiac sign of birth year is related to your early life, family tradition, culture and your personality. It's connected to your appearance and the public relationship.
For more detail and accurate prediction, you need to read the relationship between DAY MASTER and Pig Zodiac Sign of 2019. The DAY MASTER of the birth chart represents you in Chinese Horoscopes.
2019 Prediction of Day Master vs. Pig Year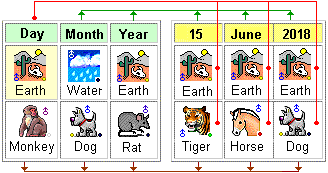 Chinese Five Elements Astrology converts Zodiac Signs into Five Elements, which are Metal, Water, Wood, Fire and Earth. By analyzing all attractive and fighting relationships between Five Elements and animals in the birth chart, it can tell you what major events regarding to career, wealth, friendship, love, marriage or reputation is coming toward you.
Our Daily Chinese Horoscope provides the prediction information of yearly, monthly and daily cycles for the coming year. But it's required your birthday and birth time to have the free reading. If you don't know your birth time, then ask your mother or find your birth certificate.
2019 Chinese Daily Five Element Astrology
2019 Rise and Fall Chart
It's more meaningful to know our fortune of the entire life than 2019 Chinese zodiac prediction. Chinese Five Element Astrology can reveal your Lucky Element and tell you how to improve your fortune using the Lucky Element guide. Chinese Fortune Calendar also tells the valuable secret of your life - the Rise and Fall Chart. By taking this advantage, you can plan for your future in advance.
Reveal Your Secret - Rise and Fall Chart
Related Astrology for Love, Palm Reading, Baby Gender
Plan for 2019 Wedding, Dating, Job Interview

Home of Chinese Fortune Calendar