Year of Horse - Chinese 100 Horses Painting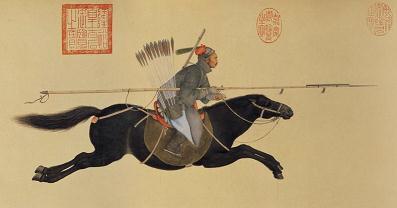 The "100 Horses" or "100 Steeds" was painted by Giuseppe Castiglione, who was an Italian Jesuit brother, missionary and painter at the court of the emperor in China. Giuseppe Castiglione had a Chinese name Lang Shi-Ning. He was born in Milan, Italy in 1688. He arrived China in 1715 and severed the first three emperors of Ching Dynasty. He died and was buried at Forbidden City, Beijing, in 1766.
The "100 Horses" handscroll is more than seven meters long. It depicts a scene of taking a herd of horses out to pasture in autumn. The hundred steeds are shown in a variety of poses and activities as they leisurely make their way around the pastures and trees. This Chinese art is mixing traditional Chinese brushwork and Western painting skills.
This Chinese painting is a collection of the National Palace Museum in Taiwan.
Chinese New Year in Ching Dynasty's Forbidden City
Chinese New Year Street Market in Ching Dynasty
Chinese New Year Articles
By Master Allen Tsai on November 1, 2021