2009 Chinese New Year Festival at Los Angeles
15-Day Chinese New Year Festival
Chinese New Year Questions and Answers
The 2009 Chinese Lunar New Year Day is on January 26, 2009. But the Chinese community in Los Angeles area celebrates Chinese New Year Festival on January 17 and January 18 at Pomona Fairplex, 1101 W McKinley Ave., Pomona, CA 91867. The event is called Asian American Expo 2009 and is held by www.ccyp.com. Expo 2009 is the 28th anniversary. This 2009 expo has 800 exhibitors, 7 stages with live performances and many food booths. More than 100,000 Asian people are expected to attend the expo.
If you miss 2009 expo, then you have wait for 2010. Here we provide you the video of the best performance arts from China.
The greatest puppet show from China electrifies audience in the Chinese New Year festival.
Chinese Sichuan Opera Face Changing Performance Arts apply on the Chinese Puppets.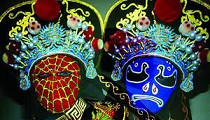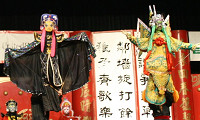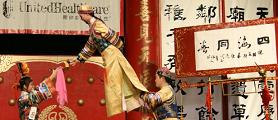 Chinese Puppet Handwriting - Chinese Calligraphy
Chinese Opera and Chinese Puppet Face Change
Shaolin monks with California students performed Fung Ku martial arts techniques.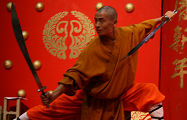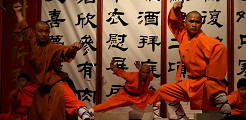 Shaolin Needle Break Through Glasses
New Year Lantern Festival
The last day of the Chinese New Year festival is the Lantern Festival, which is on the 15th day of the first lunar month in the Chinese lunar calendar. The variety of Lantern displays, sky lantern, firecracker, fireworks are celebrated in many major cities. Chinese supermarkets can find small version of traditional night paper lanterns.
Coming Chinese Lunar New Year Days
China Time Zone
US PST Time Zone
US EST Time Zone

February 10,2013
January, 31 2014
February, 19 2015
February, 8 2016
January, 28 2017
February, 16 2018
February, 5 2019
January, 25 2020

February 9,2013
January, 30 2014
February, 18 2015
February, 8 2016
January, 27 2017
February, 15 2018
February, 4 2019
January, 24 2020

February 10,2013
January, 30 2014
February, 18 2015
February, 8 2016
January, 27 2017
February, 15 2018
February, 4 2019
January, 24 2020
Nice to Watch YouTube Videos
Extraordinary Blind People - Seeing with Sound
---
Find the Date of Chinese Festivals

Home of Chinese Fortune Calendar