Personal Name List from the Database
The Name List window helps users to copy personal birth data into the Best Personal Lucy Day, Baby Gender Predictor and Checking Lucky Name application windows.
To display the Name List window, click the

People icon from the astrology window. Double-click on a person name from the Name List to fill in the birth data. You can also use the

icon to copy the personal birth data into the astrology window if a name is selected first.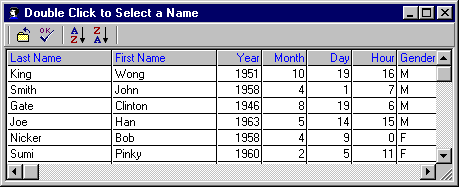 If you want to sort the Name List by a certain field, can highlight the field's column, then click on

icon to sort the names in ascending order or click the

icon to sort the names in descending order.
To close the window, click on the

Close button
Chinese Farmer's Almanac Software
Chinese Farmer's Calendar software (Chinese Farmer's Almanac or Tung Shu) helps people to find auspicious days for special events, such as a wedding, grand opening business, and relocation. It covers 300 years from 1900 to 2200 with 24 time zones. Chinese Farmer's Almanac includes all cycles of the Purple White Nine Flying Stars. Flying Stars helps us to look for the house of wealth, the house of wisdom, and the house of love. The database can share with the Fortune Angel Chinese Astrology software.
INDEX MENU
Copyright © 1999-2021 Chinese Fortune Calendar All Right Reserved.