Order and Download Chinese Farmer's Calendar Software
PayPay Credit Card Payment System
You can send your payment directly over the Internet using your credit card through the PayPal system, which is very secure. There are over 15 million websites worldwide using PayPal today.
Remember the report payment will send to Three B's Books and Services.
Send email to mastertsai@yahoo.com, if you don't receive the download page after payment.
The file for download is Farmer.msi. You can install it into Windows 10 and Windows 11.
There is no virus inside the msi or zip file.
You might get a false virus alarm from your anti-virus software during the download and installation. Just ignore it
No Farmer Calendar software CD will deliver to you.
No return, refund or exchange for the software download version.
If you don't get the download page, then please send your mailing address to mastertsai@yahoo.com and we notify you the location to download the software.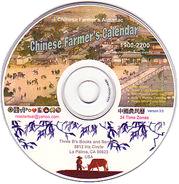 300-Year Chinese Farmer's Calendar
INDEX MENU
Copyright © 1999-2023 Chinese Fortune Calendar All Right Reserved.