Chinese Farmer's Calendar - Lucky Days Selection
To find the Farmer's Calendar lucky days, select Almanac from the menu bar, then click the Find Lucky Days item from the drop down menu, or simply click the

Eye/Find icon on the tool bar.
The Chinese Farmer's Calendar software enables to dynamically calculate the lucky events from 1900-2200.
Select the year, beginning month, number of months to calculate, time zone, type of event and click the

OK button, the lucky days or fair days for that events will list on the grid.

HTML button displays Lucky Day Listing in HTML format for printing purpose.
The maximum months to calculate is 24 months. Do not click on any button while calculating, because this screen uses lots of memory space.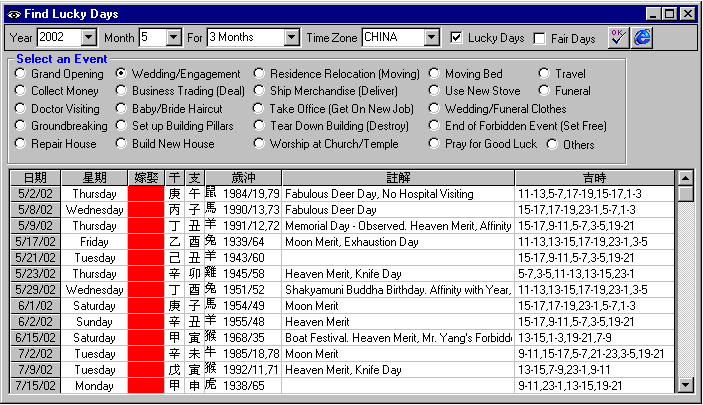 : Wedding

: Total Score

: Note

: Lucky Hours
Chinese Format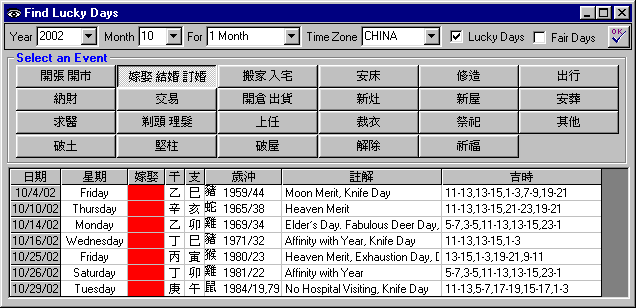 HTML Format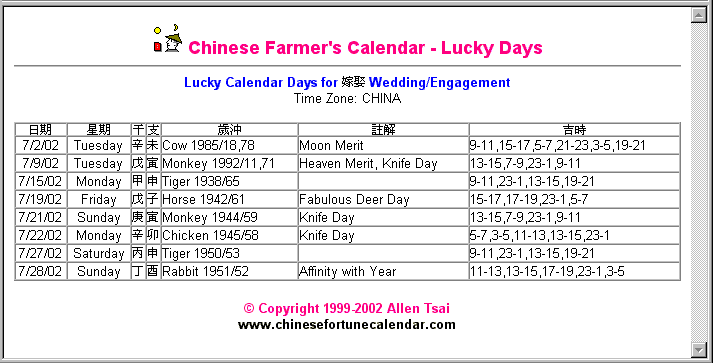 Chinese Calendar Terms
Chinese Farmer's Almanac Software
Chinese Farmer's Calendar software (Chinese Farmer's Almanac or Tung Shu) helps people to find auspicious days for special events, such as a wedding, grand opening business, and relocation. It covers 300 years from 1900 to 2200 with 24 time zones. Chinese Farmer's Almanac includes all cycles of the Purple White Nine Flying Stars. Flying Stars helps us to look for the house of wealth, the house of wisdom, and the house of love. The database can share with the Fortune Angel Chinese Astrology software.
INDEX MENU
Copyright © 1999-2021 Chinese Fortune Calendar All Right Reserved.