2016 Chinese Horoscope Year of Red Money - 4713th Chinese Year
All Chinese Horoscope signs, Rat, Cow, Tiger, Rabbit, Dragon, Snake, Horse, Sheep, Monkey, Chicken, Dog and Pig, 12 Chinese Zodiac animal signs can be converted into Five Elements, which are Metal, Water, Wood, Fire and Earth. Five Elements are the key to find your lucky times and places. To know your Five Elements is the way to live luckier, wealthier, healthier, happier and longer. Click here to search for your fortune.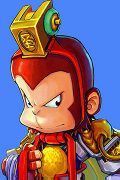 Chinese Fortune Calendar was launched in 1999. The foundation of contents come from the Chinese astrology and lunar calendar. The major applications are Chinese Astrology Five Element fortunetelling, Chinese Horoscope zodiacs, Chinese baby gender prediction, Chinese lunar calendar conversion, Chinese farmer's almanac and Feng Shui Flying Stars. All these applications provides us the opinions about love match, marriage, wealth, career, lucky color, lucky place, lucky time, lucky year, partner friendship or business relationship. Feng Shui can help us to find lucky bedroom, roommate, study room, rich house or love house. It also includes Chinese palm reading, Chinese facial mole reading, Yin Yang, Five Elements, I-Ching, Chinese New Year, Chinese festivals and many Chinese culture topics. Lots of treasures are here. Dig them out by yourself.
2016 Five Element Astrology 2016 Horoscope Signs 2016 Monkey New Year 2015 Horoscopes

The Chinese Baby Gender Prediction Calendar Chart of Ching Dynasty was revealed in 1972. It provides baby gender information based on Chinese Lunar month and woman's Chinese age. This helps people to choose baby gender before pregnancy. The Baby Gender Predictor of Chinese Fortune Calendar uses very accurate astronomical data to calculate Chinese lunar month and Chinese age at any selected year. Many baby gender related articles are in the following.
Many Chinese culture articles related to Chinese astrology can be found from the following links. Such as Yin Yang, Lo Shu, I-Ching, the legend of Chinese zodiacs and Chinese dragons.