2016 Chinese Horoscopes for Year of the Red Fire Monkey

2017 Chinese Horoscope - Red Chicken
This is the 2016 Chinese Horoscopes for Rat, Cow, Tiger, Rabbit, Dragon, Snake, Horse, Sheep. Monkey, Chicken, Dog and Pig Chinese zodiac signs. This will cover your career luck, money luck, reputation, love, health and more in the year of the Monkey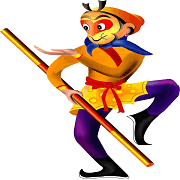 Chinese New Year Day of 2016 is on February 8, 2016. 2016 is the 4713th Chinese Year, which is the


Bing-Shen year in the Chinese Stem-Branch calendar.

Shen is connected the Monkey in the Chinese Horoscopes.

Bing is Male Fire, which is connected to the Sun. The color of Fire is connected to Red. Therefore, 2016 is the year of Red Fire Monkey


.
Monkey is a smart, wily, creative, irritating and impatient animal. It likes new discovery, adventure, fashion and limelight. Monkey is a curious animal with ambitious. It likes to pursue the power, performance, knack, challenge and vanity. It's used to take impromptu and immature actions.

Shen is the month of August, which is the beginning season of autumn. It also is the beginning of the windy season in China. That means Monkey is connected to the wind. The Male Fire of 2016 is the Sun, which can change the temperatures to create the air current. That implies Fire Monkey can generate the strong wind. The August of 2016 is also the


Bing-Shen month. We need to watch for unexpected events. Something might come very quickly and bring in the hazard.
According to Chinese Five Elements Horoscopes, Monkey contains Metal and Water. Metal is connected to gold. Water is connected to wisdom and danger. Therefore, we will deal with more financial events in the year of the Monkey. Monkey is a smart, naughty and vigilant animal. If you are looking for financial success, then you need to outsmart the Monkey.
Monkey is the 9th animal of 12 zodiac signs. This is the beginning of the Metal cycle. If you can handle and docile the Monkey, then you will do well in the coming 2017 Year of Chicken too.
The following prediction for 2016 Year of Monkey is based on your birth year, the Chinese zodiac signs. If you don't know your Chinese Animal Sign, then you can provide your birthday to get the complete prediction from mastertsai.com site.
2016 Monkey Year Prediction

2016 Chinese Five Elements Astrology for Red Monkey

Home of Chinese Fortune Calendar