Chinese Farmer's Calendar - Almanac Software

Order Chinese Farmer Calendar with Promotion Price
Introduction
More than 80% of Chinese families use Chinese Farmer's Calendar to find the lucky date for their wedding, engagement, store grand opening or residential relocation events today. The Chinese Farmer's Calendar software can dynamically calculate the lucky event days from 1900 to 2200 for 24 time zones. Also, it has the ability to find the best lucky day for people by checking the compatibility between the lucky days and people's astrology birth chart. Therefore, the almanac information from Chinese Farmer's Calendar software should have some difference from the books of Chinese Farmer's Almanac. Detail
New in Version 5.0:

Arrange Bedroom and Office, Find House of Wealth, House of Money, House of Love
Major Components
The Chinese Farmer's Calendar software also provides a database to keep people's names and birthdays. This feature is handy for people to find their best personal lucky day.
How to Order

Order Chinese Farmer Calendar with Promotion Price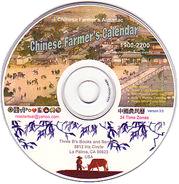 300-Year Chinese Farmer's Calendar
INDEX MENU
Copyright © 1999-2021 Chinese Fortune Calendar All Right Reserved.