2011 Chinese New Year Festival and Lunar New Year Parade
2012 Chinese New Year Festival and Lunar New Year Parade
2012 Chinese Lunar New Year
The 2011 Chinese Lunar New Year Day is on February 3, 2011, which is Thursday. The last day of the Chinese New Year Festival is the Lantern Festival, which is the 15th lunar day of the first lunar month. The Lantern Festival Day is on February 17, 2011. Chinese communities in North America celebrates Chinese New Year Festival on different days. The schedules of Chinese New Year festival, carnival, party and parade are usually moved to the next weekend after Chinese New Year Day in USA or Canada. The following are Chinese Lunar New Year Festival or Parade events in the Chinatown.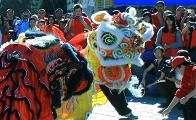 Event
City
Date
2011 Chinese New Year San Francisco Chinatown Parade
San Francisco
February 19, 2011 at 5:30 P.M. - 8:00 P.M.
2011 Golden Dragon Parade at Los Angeles
Los Angeles
February 5, 2011 1:00 P.M. & February 5-6 (festival)
2011 Lunar New Year Celebration Festival
Monterey Park, Los Angeles
January 29-30 0, 2011 10:00 A.M. - 8:00 P.M.
2011 Chinese New Year Parade in Manhattan's Chinatown, New York
Manhattan's Chinatown

February 3, 2011

at 11:00 A.M. - 3:30 P.M.
2011 Chinese New Year Parade in Flushing, New York
Flushing
2011 Houston Lunar New Year Festival Houston
Houston
February 5, 2011 at 10:00 A.M. - 4:00 P.M.
2011 Vancouver Chinatown Chinese New Year Parade
Vancouver
2011 Vancouver Download Lantern Festival
Vancouver
February 3-13, 2011
2011 Asian American Expo
Pomona, Los Angeles
January 15-16, 2011

at 10:00 A.M.- 7:00 P.M.
2011 Chinese Horoscope and Chinese Lunar New Year
2011 Chinese Zodiac Year of Rabbit

2011 Chinese Astrology Year of Rabbit
China Time Zone
US PST Time Zone
US EST Time Zone

January 26, 2009
February 14, 2010
February 3, 2011
January 23, 2012
February 10,2013

January 25, 2009
February 13, 2010
February 2, 2011
January 22, 2012
February 9,2013

January 26, 2009
February 13, 2010
February 2, 2011
January 23, 2012
February 10,2013
Find the Date of Chinese Festivals
Chinese New Year Articles
By Master Allen Tsai on November 20, 2021