2015 Chinese New Year Festival and Lunar New Year Parade
The 2015 Chinese Lunar New Year Day is on February 19, 2015 which is Thursday. The last day of the Chinese New Year Festival is the Lantern Festival, which is the 15th lunar day of the first lunar month. The Lantern Festival Day is on March 5 , 2015. Chinese communities in North America celebrates Chinese New Year Festival on different days. The schedules of Chinese New Year festival, carnival, party and parade are usually moved to the next or previous weekend after Chinese New Year Day in USA. The following are Chinese Lunar New Year Festival or Parade events in the Chinatown.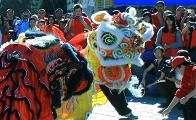 The Chinese New Year Parade will be on Saturday, March 7, 2015 at 5:15 pm. at San Francisco.
| | | |
| --- | --- | --- |
| Event | City | Date |
| San Francisco Chinatown New Year Events | San Francisco | January - March 2015 |
| Southwest Airlines Chinese New Year Parade | San Francisco | March 7, 2015 |
| Golden Dragon Parade at Los Angeles | Los Angeles | February 21, 2015 |
| Washington DC Chinese New Year Parade | Washington DC | February 14, 2015 |
| 16th Chinatown New Year Parade & Festival | Roosevelt Park, New York | February 22. 2015 |
| Chinese New Year Celebrations at Manhattan | Chinatown, New York | February 21, 2015 |
| Chicago China Town New Year Parade | Chicago | February 22. 2015 |
| Houston Lunar New Year Celebration | Houston | February 21-22. 2015 |
| Houston Lunar New Year Festival Houston | Houston | February 14, 2015 |
| Monterey Park Lunar New Year Celebration Festival | Monterey Park, Los Angeles | February 7-8, 2015 |
| Alhambra Lunar New Year Celebration | Alhambra, Los Angeles | February 21. 2015 |
| San Gabriel Lunar New Year Celebration | San Gabriel, Los Angeles | February 15 2015 |
| Asian American Expo | Pomona, Los Angeles | January 17-18, 2015 |
| Tet Festival Lunar New Year | Costa Mesa, Orange, CA | February 20-22, 2015 |

2015 Chinese Horoscope and Chinese Lunar New Year


2015 Chinese Zodiac Year of Goat


2015 Chinese Astrology Year of Green Sheep
Chinese New Year Days
China Time Zone
US PST Time Zone
US EST Time Zone

January 31,2014
February, 19 2015
February, 8 2016
January, 28 2017
February, 16 2018
February, 5 2019
January, 25 2020

January 30,2014
February, 18 2015
February, 8 2016
January, 27 2017
February, 15 2018
February, 4 2019
January, 24 2020

January 30,2014
February, 18 2015
February, 8 2016
January, 27 2017
February, 15 2018
February, 4 2019
January, 24 2020

Chinese New Year Days in Different Time Zones
Find the Date of Chinese Festivals
Chinese New Year Articles
By Master Allen Tsai on November 20, 2021