Chinese Fortune Angel Premium Version
What's New in the Premium Version 8?
The Chinese Fortune Angel PC Premium software is designed for people extremely interesting in daily, monthly, yearly Five Element scores and prediction messages.
The Premium Version includes a second set of the Chinese astrology using traditional fortune-telling method. It contains more yearly cycle prediction messages for people's entire life. More than 30 reading material pages about Chinese astrology are included in the Premium Version. These are good for people learning the Chinese astrology.
Also, the software offers a great prediction tool about people's luck in Love. Now, The astrology love match includes the traditional Chinese astrology fast match, Feng Shui match and the western zodiac match. These three love matches should give people a very good advice in their dating, love and marriage life.
Main Welcome Menu
Displays daily, monthly, yearly event messages and Five Element charts and easy to access major components.


Chinese Fortune Calendar
A Complete 2nd set of Chinese Astrology gives you the second opinion of Lucky Element. It shows all the critical yearly cycle messages in the entire year. The birth chart contains 10 Gods information.

Cycles of Love
Shows the luck of love for every major, yearly and monthly cycles. Tells when are the good time for romantic relationship and marriage. You can use this tool to look for the possible marriage years.

Feng Shui Match
Love Match using Chinese Feng Shui Kua Numbers. Calculated the matching score and tells the auspicious direction for couples.


Zodiac Match
Gives you Love Match Score using Western Zodiac Astrology


True Solar Time
Provides the option to use True Solar Time (sundial time) adjusting from the equation of time


Prediction Messages
More prediction texts for cycles event messages can be found in many components


New Symbols
New 12 Life Stage Symbols and hints inside the 10-God Birth chart


Test Lucky Element
A new way to verify the Lucky Element by the strength of Day Master

Find Lucky Element
Uses multiple Astrology theories to determine a person's Lucky Element. Add Years-to-come Chart, current year's Five Element scores, major 10-year cycle and yearly event prediction messages.

Life Balance Chart
Demonstrates The Rise and Fall Life Chart using the Major cycles and Yearly cycles. Add cycle event messages in the Major 10-year chart. Yearly Chart can extent up to 100 years.

Opportunity Chart
Shows the Money, Career and Lucky Element opportunities in the Life Chart. Major 10-year chart shows year and age with the cycle event message. Yearly chart can break down chart into two parts.

Personality Chart
Calculates the Five Element weights to analyze a person's personality. Yearly Pie Chart can show Fist Half or Second Half year.

Fast Love Match
Displays the Love Compatibility and Five Element Balance Scores using two people's birthdays and times. Add Feng Shui Compatibility Match

Dating Tools
Love Matches with multiple people. Find Lucky Days for Dating. Add Feng Shui and Zodiac Matches


Winter Solstice
New System Option to choose Winter Solstice as the Astrological Year's Boundary - Version 7.1


Solar Local Time
Free utility program to convert True Solar Local Time (sundial time) using Longitude
Free Add-On Module


Extra Prediction
Additional Event prediction messages of money, career and fame - Version 7.1.

10-God Birth chart
Expands astrology prediction messages for 10-Year Major, Yearly, Monthly and Daily Cycles in the Version 7.5.


Learning Astrology
A HTML documentation to teach Chinese astrology learner some prediction tricks from professional fortune tellers. The explanation of 10 Gods in Version 8

Years to Watch (8.0)
Lists all critical years - strong Five Element years, multiple stem/branch fighting relationships.

Peek that Year (8.0)
Prediction for any year in the past or in the future.

Fleeting Time (8.0)
Predict each Five Element daily events combining Major, Yearly and Monthly cycles.
Free Add-On Module

Birth Chart to Birthday
A unique tool to convert Chinese Astrology Birth Chart to Birthday and birth time, not
include in the standard Version 8. (Add-On)

Hidden Stars
Hidden Stars are the extension version of Chinese Astrology birth chart to predict some special events, not
include in the standard Version 8. (Add-On)

The Chinese Fortune Angel PC software also provides a database to keep people's names and birthdays. This feature is handy when you want to do the Love Match.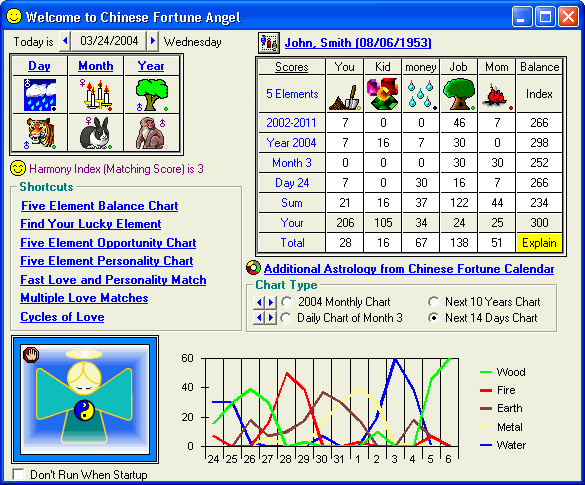 Order Fortune Angel Chinese Astrology Version 8.0
Order Fortune Angel Chinese Astrology Version 7.5

Order Premium Version from Chinese Fortune Angel
---
© 2001- chinesefortunecalendar.com