Chinese Farmer's Almanac - Farmer's Calendar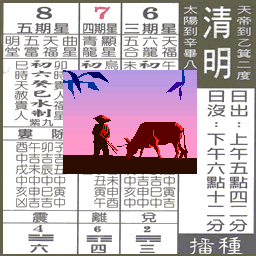 Chinese Tung Shing - Chinese Tung Shu
More than 80% of Chinese families use the Chinese Farmer's Almanac or Tung Shing (Tung Shu) to find the lucky date and time for special occasions like wedding, engagement, store grand opening, residential relocation, and so on. Chinese Farmer's Almanac contains mainly the Chinese farmer's calendar, which combines the Chinese Lunar Calendar, Stem-Branch Calendar, Gregorian Calendar, Flying Star Calendar, 24 Solar Segment Calendar, etc.
Besides the Chinese calendar information, the Chinese Farmer's Almanac covers much cultural information. For example, we can find information for preparing wedding ceremonies, religious rituals, or Chinese New Year celebrations. It also includes different fortunetelling predictions, such as Chinese zodiacs, western horoscopes, poker cards, I-Ching oracle, blood types, Feng Shui, marriage compatibility, and baby gender prediction.
Our web site provides Chinese Farmer's Almanac 2020- with the Event Search function, which should help people to plan their schedule easier and earlier.
Chinese Horoscopes vs. Birth Chart
Finding the most Auspicious Wedding Date for Free!
Ask the master for an Auspicious Wedding Date!
Articles You Might Like
By Master Allen Tsai on December 6, 2021